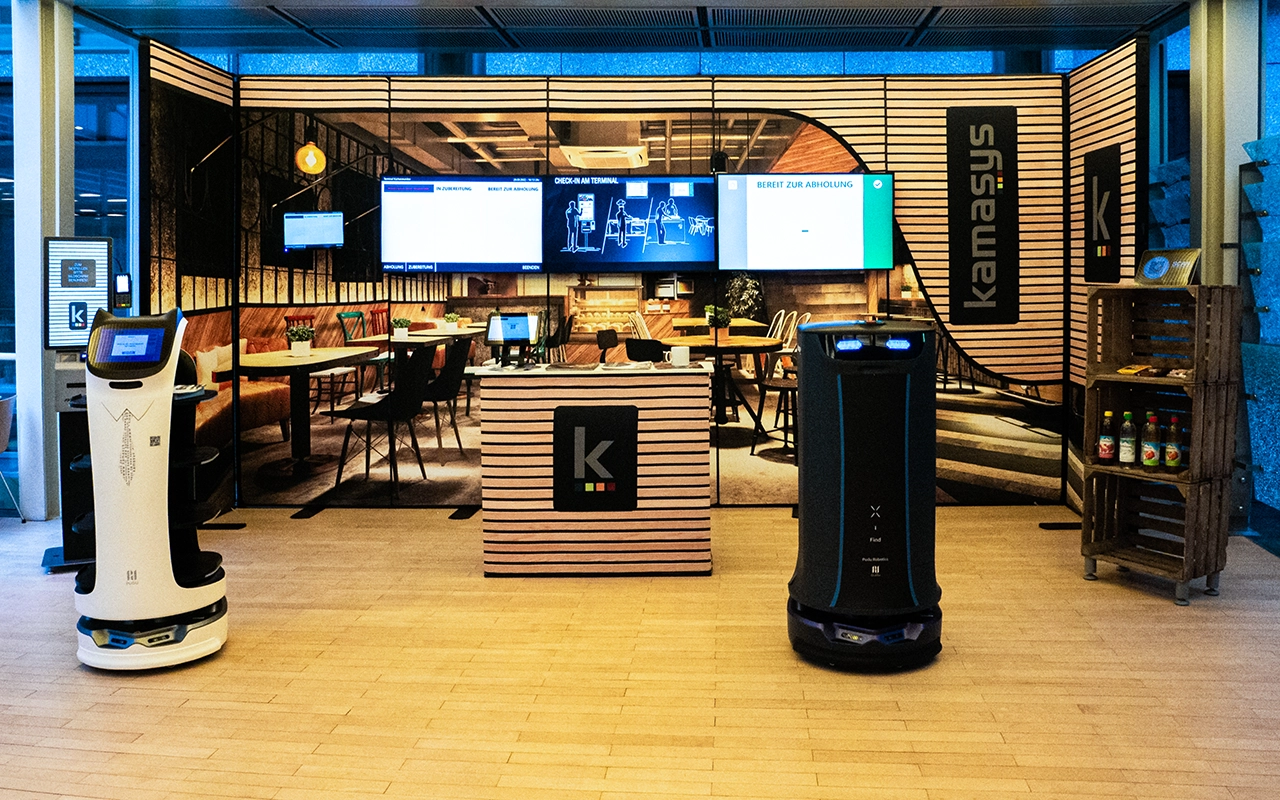 01 Nov

On tour - This is what the kamasys roadshow 2022 was like

Two weeks, four stops, a few thousand kilometers driven, great audience: Our own roadshow in the metropolises Frankfurt/Main, Munich, Cologne and Hamburg was a complete success!
Our two service robots BellaBot and HolaBot in particular attracted the visitors' interest, as did the comprehensive check-in concept and Scan2Go - the latest module of the lunch app.

kamasys at your fingertips
Despite several symposia this year, not everyone interested had the opportunity to experience kamasys live. Or there was not always the opportunity to deal intensively with the products and innovations.
Nevertheless, in order to support the responsible persons in the communal catering in the best possible way to cope with current challenges, the roadshow has been created: Free of charge, those responsible and decision-makers in company restaurants, canteens and the care sector were able to obtain comprehensive information about contemporary solutions.
The special feature of the event: the informal atmosphere in a small setting made it possible to intensively put products through their paces and test them for oneself - kamasys at your fingertips.
The kamasys roadshow 2022
Critical questions, satisfied customers
How secure is the bot from theft or "mischief" by customers? Can I test app modules first? Do I necessarily need Internet access for Scan2Go? Many of the guests took advantage of the relaxed setting to confront our sales team with all kinds of questions - and that went down well: "I particularly liked the team that gave insightful reports on innovations, presented it and was simply there for questions and needs we had," said Thomas Herzog from Cenito Service GmbH. During the discussions, the balancing act that those responsible for mass catering currently have to perform also became clear: The balancing act between cost pressure and necessary investments. According to one of the participants, this can only be achieved through precise analysis and a focus on the guest.
Conclusion: Successful event shows direction in community catering
The four roadshows were a success. Both the service robots BellaBot and HolaBot attracted particular interest, as did the check-in concept with regard to new project planning. Scan2Go - a module extension of the lunch app for self-checkout - was also recognized by guests as a cost-effective alternative to vending machine catering.
At the same time, it became clear: kamasys' digital solutions and innovative concepts strike a chord with the industry and provide essential support in overcoming current challenges.
You did not have the opportunity to participate in the roadshow? Use our contact form and together we will discuss possibilities - individually tailored to your needs - how you too can secure competitive advantages.
Do you have questions or would you like to learn more?
Vereinbaren Sie jetzt Ihren persönlichen Beratungstermin!